a year ago
Hive Today - April 18th, 2022 - What's the buzz about HBD?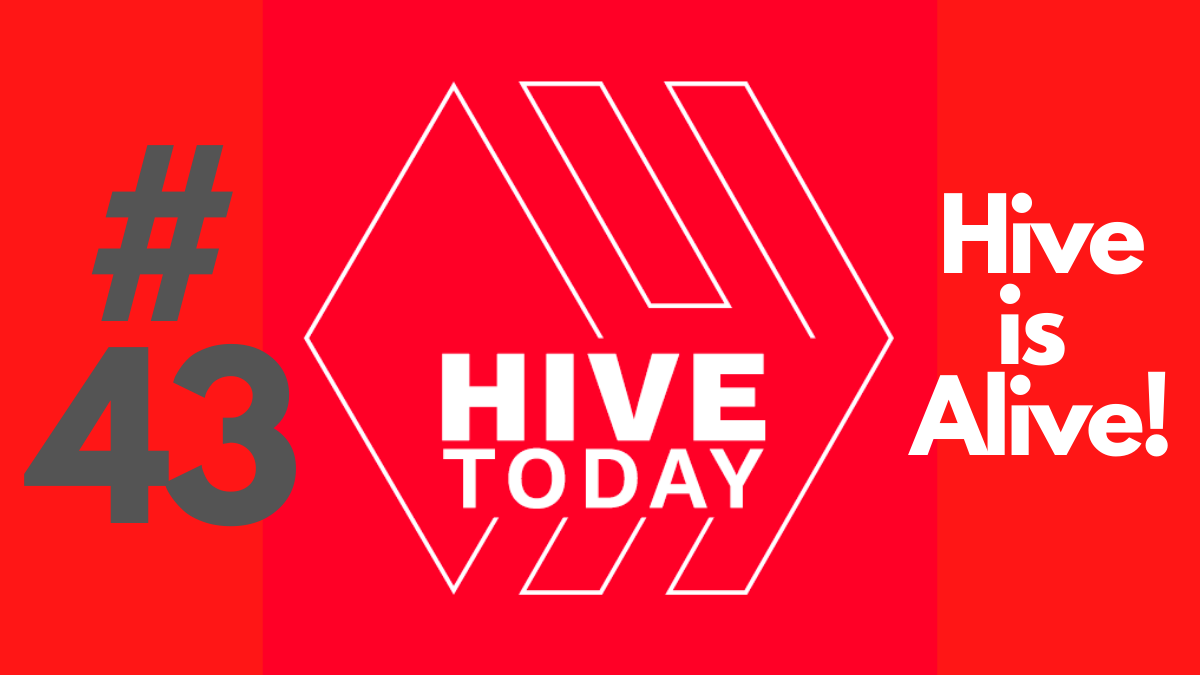 Hive is alive, and this is Hive Today.
Hive Today is a news zine for the decentralized Hive ecosystem. Hive is a blockchain-based social app platform. This newsletter provides a summary of Hive apps, games, projects, witnesses, and proposals news. Thank you for reading and sharing. Reminder: a channel called #submit-hivetoday-links is set up in the Hive Pizza Discord as a place for community members to share news-worthy posts.
What's the buzz about HBD?
Last weekend, Hive witnesses reached a consensus to change from 12% to 20% APR for HBD in savings. The rate is determined per block as a median of votes from the top 20 witnesses and the 1 rotating backup witness. When the vote is split, the rate can fluctuate from block to block, so it is ideal that a majority of the 21 witnesses semi-agree on what the rate should be.
Numerous published posts discuss the impact of this change. I'd like to highlight a few of them here. First, @Dalz explored the sustainability of the 20% rate, modeling and projecting the growth of the HBD supply based on current market conditions.
@Engrave showed how to create an HBD Savings cold storage wallet using a Ledger hardware wallet. This type of wallet is recommended for storing valuable digital assets, as it is very difficult to compromise the wallet; the keys never leave the device.
@LeoFinance also launched a pHBD-USDC DeFi pool, which offers additional rewards for liquidity providers. pHBD is wrapped HBD coins on the Polygon network. LeoFinance's wrap/unwrap tool creates a bridge between the Hive and Polygon networks.
Last but not least, the @threespeak team seeks feedback on a proposal to purchase Bitcoin using Hive DHF funds. The coins would be placed into a multi-sig wallet, with the goal of helping stabilize HBD's algorithmic stable coin peg. The proposal also discusses the issuance of HBD bonds, also to help with HBD market stability and liquidity.

This Week in Hive Witnesses and DHF Proposals
Hive witnesses keep the blockchain running. The Hive community submits proposals and receives funds from the Decentralized Hive Fund (DHF).
---
HashKings DHF Proposal
The @HashKings team launched the "DHF PROPOSAL TO A SOLID DEVELOPMENT OF THE HK ECOSYSTEM" this week. The proposal requests funding for the ongoing development of the HashKings game ecosystem and outlines plans for a gamified Hive onboarding experience.

This Week in Hive-Powered dApps, Tribes, & Tokens
Hive powers a growing number of decentralized apps (dApps). Since they all run on the same chain, one Hive account can access every app. Here's a quick summary of the Hive app landscape.
---
dBuzz Feature Development Update
This week dBuzz, the hive-powered microblogging app, rolled out a new version. There's a lot to unpack here.
dBuzz has added HiveAuth integration, which allows users to log in by scanning a QR code with the Hive Keychain mobile app. Another feature called Pockets will soon allow buzzes to be saved for future reading. The development teams also has plans to deploy Ceramic accounts integration, which should allow new users to try the app without even creating a Hive account.

This Week in Hive-Powered Games
Hive is home to a growing number of blockchain games. Here's a quick summary of updates for Hive games.
---
dCity Changes War Taxes and Adds New Buildings
dCity, the hive-powered city manager game, announced changes to one of the governance mechanics this week. The elected president can now set the war tax at any value between 0 and 10 percent. The odds of receiving a new citizen have also been adjusted. The game is adding a new Communal Housing building which can be constructed by combining a number of other buildings.
https://peakd.com/dcity/@dcitygame/war-tax-changes-and-new-upcoming-combined-building
---
BANG! Defense Roadmap Update
The hive-powered tower-defense-style game, BANG! Defense, shared a roadmap update. The game is expected to be playable in closed beta sometime in Q2 of this year.
---
HashKings Begins BUDS Staking Program
This week HashKings launched the previously announced BUDS token staking program. Players who stake their BUDS will start earning EXP tokens which can be redeemed in game for consumable items that level up avatars.

Upcoming Hive Community Events and Meetups
Cryptomaniacs Welcomes Guest @Raymondspeaks
Cryptomaniacs is a bi-weekly podcast hosted by @jongolson and @taskmater4450. The show broadcasts on Twitter/VimmTV/YouTube on Tuesdays and Thursdays. This week on Tuesday the hosts welcome Raymondspeaks to share announcements about the BRO and Cine communities.
Hive Blog Posting Month (HiveBloPoMo)
HiveBloPoMo is a twice-a-year challenge where participants post on the blockchain every day for the entire month. It is already in progress for April, and the next round will start in November. Learn more in this post brought to you by @traciyork.
Pizza Guild Community Events
The Pizza Guild hosts a number of fun community events throughout the week. Join us in the Hive Pizza Discord (https://discord.gg/hivepizza) to see the full schedule and details for upcoming events.
4/19 - Pizza Guild | Art Stream - hosted by @huzzah
4/20 - Drab's 420 Bash - hosted by @drabs587
4/21 - Music Quiz Challenge
4/22 - Trivia Night & Community Game Night
4/25 - King CyberWorm Royale - hosted by @daddyspardan

Wrapping Up
Thank you for reading. This is edition #42 of this Hive news digest. Your support and feedback are much appreciated. Please consider a follow, reblog, comment, or upvote.
The goal of HiveToday is to provide a curated news digest for the Hive community and help inform outsiders about all the great things happening in the Hive ecosystem. If specific stories or events are missing here, please leave a comment or stop by the #submit-hivetoday-links channel in the Hive Pizza Discord.
This blog is produced by the @Hive.Pizza Guild. The Pizza Guild is a social group focused on creating awesome tools and opportunities for gamers, artists, and content creators- Powered by HIVE. We are a dedicated team striving every day to improve the Hive ecosystem. Please consider giving your vote of approval for our witness (@pizza.witness). Here's a convenient place to vote using Hive Keychain or HiveSigner: https://vote.hive.uno/@pizza.witness. Thanks for your support!