2 years ago
Hive Today - April 9th, 2022 - HBD Savings APR Approaching 20%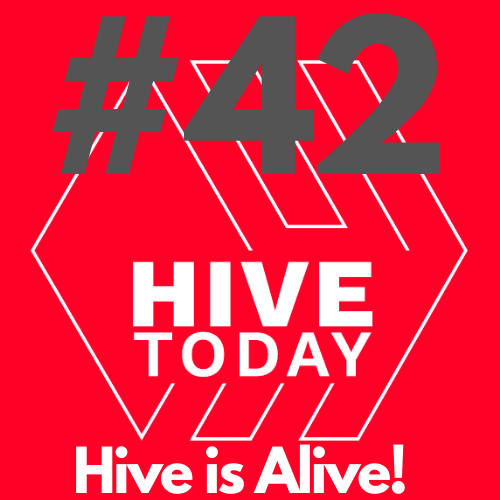 Hive is alive, and this is Hive Today.
Hive Today is a news zine for the decentralized Hive ecosystem. Hive is a blockchain-based social app platform. This newsletter provides a summary of Hive apps, games, projects, witnesses, and proposals news. Thank you for reading and sharing.
We've returned after taking a long break starting in September 2021. During this break, a ton of energy was expended to grow the Hive Pizza community. A new channel called #submit-hivetoday-links is set up in the Hive Pizza Discord as a place for community members to share news-worthy posts.

This Week in Hive Witnesses and DHF Proposals
Hive witnesses keep the blockchain running. The Decentralized Hive Fund (DHF) allows the Hive community to submit proposals and receive funding.
HBD Savings APR Approaching 20%
This week several Hive witnesses updated their votes for the HBD interest rate (applies to HBD in savings). As of this writing, 9 out of the top 20 witnesses are signaling 20%. The actual rate for each block is the median of votes from the top 20 (consensus) witnesses plus 1 rotating backup witness. If this change is adopted by a majority, it means that HBD has one of the most competitive stable coin rates in the crypto space. Hive consensus witness themarkymark clearly explains the rationale behind the rate change in this post.
---
Howo's Core Dev Proposal
One of the Hive core developers, @howo, created a new proposal this week for development funding. Howo developed new Hive layer-1 features like recurrent transfers and resource credits delegations. Find the proposal here: Core Development Proposal Year 3.

This Week in Hive-Powered dApps, Communities, Projects & Tokens
Hive powers a growing number of decentralized apps (dApps) and communities. Since they all run on the same chain, one Hive account can access every app. Here's a quick summary of the Hive app landscape.
---
Hive community funds the construction of a well in Ghana
Hivers @mcsamm and @collinz are running a unique project. Backed with funds from the Hive community, they are building a clean water source for a village in Ghana, West Africa. Before the construction of the well, the closest clean water source was 1 hour away, making it challenging for locals to access. A prominent plaque is to be displayed on the fixture, promoting Hive. Review construction progress in this post.
---
Scholar and Scribe Tokens Launch
The Scholar and Scribe community, founded by @dibblers.dabs, is for all creative writing content: short stories, poetry, lyrics, longer serial content, and free writing. This community recently launched two layer-2 Hive-Engine tokens: SCHOLAR and SCRIBE. These tokens are designed to encourage authors to both post and curate. SCRIBE is a proof-of-brain token that doubles as a miner token, mining 5% of the SCHOLAR supply over 30 years. Unlike SCRIBE, SCHOLAR is a proof-of-brain token focused on rewarding curators. Learn more in this post.
---
SpkNetwork Larynx Claim Drop Enters 2nd Month
The SpkNetwork kicked off its 12-month long claim drop on March 20th, 2022. The second claim period started on April 1st. Following the kick-off, the SPK Claim Chain (SPKCC) software has undergone upgrades and enhancements, led by @disregardfiat. A recent post explains how the new features work. Network nodes can vote on different settings for the network and the DEX, similar to how Hive witnesses vote on network parameters.
---
HDPS - Hive Diabetes Peer Support community launch
A brand new Hive community, the Hive Diabetes Peer Support (HDPS) officially launched on April 1st. The launch was followed by 10 days of celebration. This new community, spearheaded by @frittro, serves as a gathering place to discuss experiences with diabetes and loved ones with diabetes. And it's focused on positivity, encouragement, and support. HDPS hopes to onboard more diabetics to the blockchain. Learn more on the @diabetes-support blog or stop by the HDPS Discord server.

This Week in Hive-Powered Games
Hive is home to a growing number of blockchain games. Here's a quick summary of updates for Hive games.
---
Splinterlands Twitch channel and Crypto.com listing
Splinterlands, the monster-battle game, held a town hall meeting this week where the team shared an updated roadmap. Other recent announcements included a new SplinterlandsTV Twitch channel, and a new listing for SPS tokens on Crypto.com (currently only available for non-US residents).
---
BANG! Defense pre-sale and new HashKings avatars
The @HashKings team and @Choof recently started a pre-sale of game assets for an upcoming tower-defense-style game called BANG! Defense. Alpha Legendary packs quickly sold out, but other rarities are still available for purchase. Following the start of the pre-sale event, the HashKings team announced new Mythic avatars and stats for a new Arcade Shaggi avatar to be distributed to pre-sale participants. Avatars are collectible character NFTs that affect HashKings gameplay in various ways.

Upcoming Hive Community Events and Meetups
Hive Blog Posting Month (HiveBloPoMo)
HiveBloPoMo is a twice-a-year challenge where participants post on the blockchain every day for the entire month. It is already in progress for April, and the next round will start in November. Learn more in this post brought to you by @traciyork.
Pizza Guild Community Events
The Pizza Guild hosts a number of fun community events throughout the week. Join us in the Hive Pizza Discord (https://discord.gg/hivepizza) to see the full schedule and details for upcoming events.
Pizza Guild | Plays Deceit
Pizza Guild | Art Stream - hosted by @huzzah
The Raven's Court - hosted by @ravenmus1c
Let's Write Together - hosted by @dibblers.dabs
Trivia Night
Community Game Night
Drab's 420 Bash - hosted by @drabs587
King CyberWorm Royale - hosted by @daddyspardan

Wrapping Up
Thank you for reading. This is edition #42 of this Hive news digest. Your support and feedback are much appreciated. Please consider a follow, reblog, comment, or upvote.
The goal of HiveToday is to provide a curated news digest for the Hive community and help inform outsiders about all the great things happening in the Hive ecosystem. If specific stories or events are missing here, please leave a comment or stop by the #submit-hivetoday-links channel in the Hive Pizza Discord.
This blog is produced by the @Hive.Pizza Guild. The Pizza Guild is a social group focused on creating awesome tools and opportunities for gamers, artists, and content creators- Powered by HIVE. We are a dedicated team striving every day to improve the Hive ecosystem. Please consider giving your vote of approval for our witness (@pizza.witness). Here's a convenient place to vote using Hive Keychain or HiveSigner: https://vote.hive.uno/@pizza.witness. Thanks for your support!