a year ago
Hive Today - August 28th, 2021 - Nearing 10,000 Accounts Created in 1 Day

Hive is alive, and this is Hive Today.
Hive Today is a weekly newsletter for the decentralized Hive network. Hive is a blockchain-based social app platform. This newsletter provides a summary of Hive apps and games development news. Thank you for reading and sharing.
This week, we're dedicating "above the fold" to the wonderful Hive promotional video created by @lordbutterly. This video has been making rounds on social media. Please continue sharing it!
https://3speak.tv/watch?v=lordbutterfly/gsuxlcqa

This Week in Hive-Powered dApps, Tribes, & Tokens
Hive powers a growing number of decentralized apps (dApps). Since they all run on the same chain, one Hive account can access every app. Here's a quick summary of the Hive app landscape.
---
@penguinpablo Reports - 10 Million Hive Withdrawn From Exchanges
@penguinpablo, keeper of the Hive stats, shared some exciting metrics this week. Keeping an eye on known exchange wallets, an exodus of Hive coins is observed.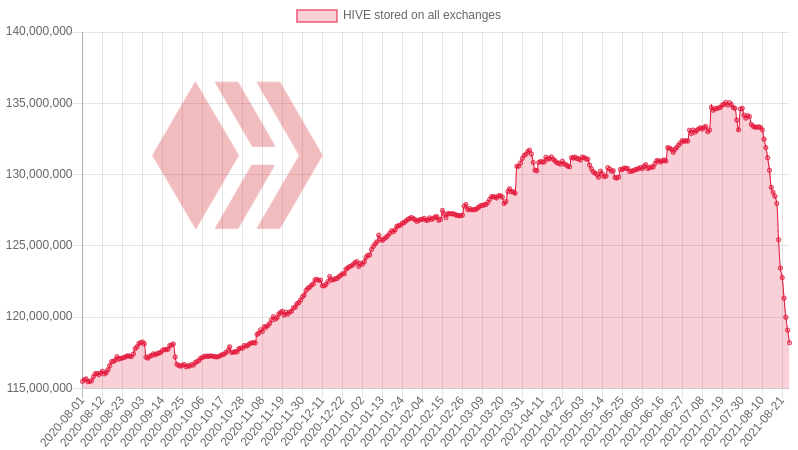 New Hive account creation also continues an upward trend. This is largely thanks to Splinterlands, but not exclusively. Hivers also reported an increase in the volume of new "IntroduceYourself" posts.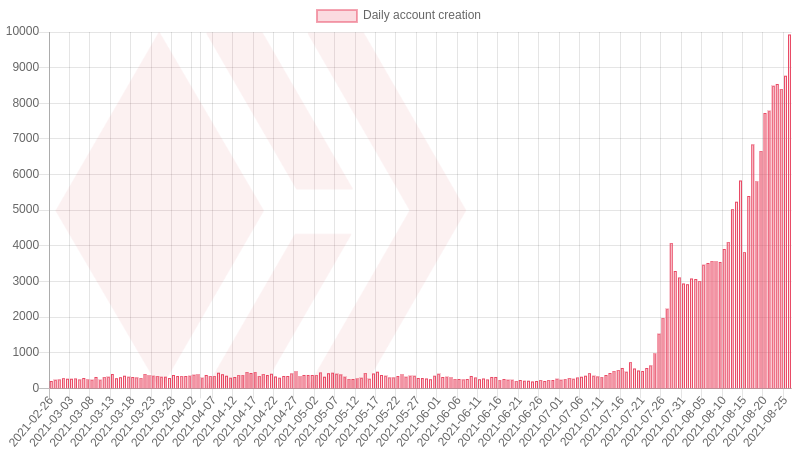 ---
LeoFinance Launches CUB IDO Launchpad
This week the LeoFinance team launched the CubDefi decentralized IDO Launchpad. IDO means "Initial DEX Offering". New tokens can leverage CubDefi to access the active community and gain some initial liquidity while staying decentralized. The first IDO to launch is $CAKEPOP.
---
Value4Value Proposal Seeks Funding
A new DHF proposal for V4V was introduced 9 days ago by @brianoflondon. This proposal seeks funding to create a bridge between Hive and the Bitcoin Lightning Network. Podcasting 2.0 apps use the Lightning network for streaming sats, which basically means direct tips from listener to podcaster. The proposed V4V bridge would allow podcast content creators to receive those tips as Hive coins, including podcasts associated with all 3Speak channels. Yes! Podcasting supports video, too.

This Week in Hive-Powered Games
Hive is home to a growing number of blockchain games. Here's a quick summary of updates for Hive games.
---
Rising Star Enters Partnership with PIZZA Team
Rising Star, the rock band simulator game, entered a partnership with PIZZA Team this week. Card packs can be purchased using $PIZZA tokens. And a $PIZZA:$STARBITS DIESEL Pool was set up on Tribaldex. Liquidity providers who contribute to the pool can earn $STARBITS and $PIZZA tokens as rewards.
---
Splinterlands Continues Explosive Growth and Deploys Brawls 2.0
Splinterlands continue to grow like crazy. On August 23rd, 2021, 15,000+ new players signed up for Splinterlands, and the total number of daily active players exceeded 100,000, according to DappRadar. As of now, 5 days later, the 24-hour DAU count on DappRadar shows 120,000. Incredible!
The Splinterlands team also released an exciting update to the game's guild brawl system. Players who participate in brawls will earn Merits, a new token that can be spent in the Guild Store on gladiator card packs. Gladiators are a unique type of card that can only be used in brawls and can only be obtained from brawling. In addition, the cards are "soulbound," meaning they can't be sold or transferred.
---
STEMGeeks Launches APE Mining Club Game
APE Mining Club is a new Hive-powered game created by the STEMGeeks tribe. In this game, players use $APE tokens to buy crypto-mining equipment and $STEM tokens to boost equipment effectiveness. Through the game, players earn $APE, which can then be reinvested or traded on secondary markets like Hive-Engine.

Upcoming Hive Community Events and Meetups

Thank you for reading. This is edition #40 of this Hive news digest. Your support and feedback are much appreciated. Please consider a follow, reblog, comment, or upvote.
Hive Today is published on Saturdays. The goal is to provide a curated news digest for the Hive community and educate outsiders about all the great things happening in the Hive ecosystem. If specific stories or events are missing here, please leave a comment.
This blog is produced by the @Hive.Pizza team (@hivetrending and @thebeardflex). PIZZA Crew is a Hive-powered social group empowering content creators, gamers, and YOU. We host game servers, a DLUX node, a Hive-Engine node, and a Hive witness node! So please help us out and give your vote of approval for our witness (@pizza.witness). Here's a convenient way to vote using Hive Keychain or HiveSigner: https://vote.hive.uno/@pizza.witness. Thanks for your support!