a year ago
Hive Today - July 18th, 2021 - HBD APR Reaches 10%

Hive is alive, and this is Hive Today.
Hive Today is a weekly newsletter for the decentralized Hive network. Hive is a blockchain-based social app platform. This newsletter provides a summary of Hive apps and games development news. Thank you for reading and sharing.
---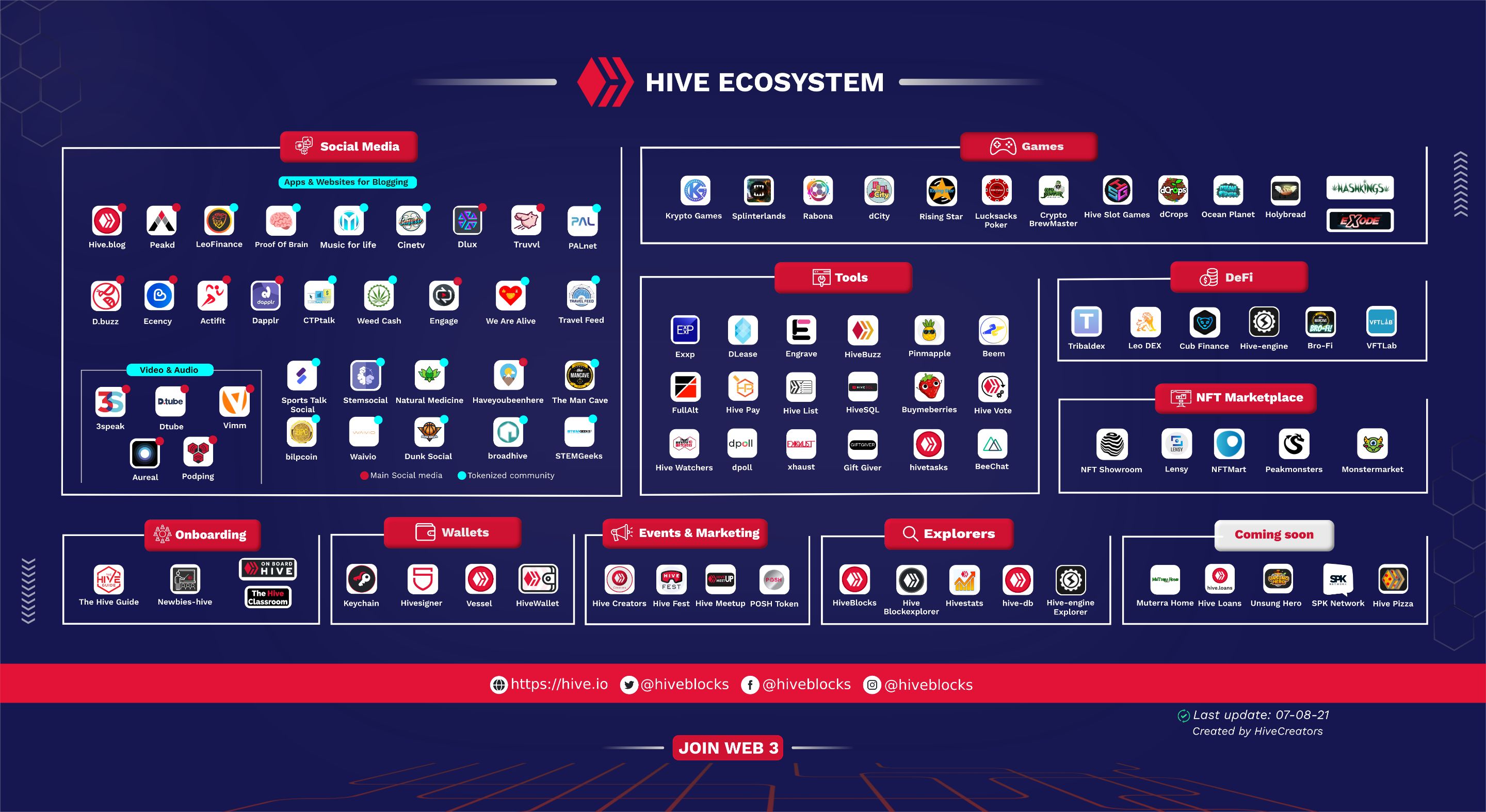 Hive Infographic by artist @enrique89
---
HBD Interest Rate Reaches 10%
This week, witnesses adjusted interest rate elections for HBD. The new rate of 10% applies to HBD in savings. HBD held in the wallet outside of savings, gains no interest. With 10% APR, $HBD becomes more attractive to investors looking for a decentralized stablecoin.

This Week in Hive-Powered dApps, Tribes, & Tokens
Hive powers a growing number of decentralized apps (dApps). Since they all run on the same chain, one Hive account can access every app. Here's a quick summary of the Hive app landscape.
---
3Speak Adds RSS Feeds, Turning Shows into Podcasts
This is huge, and potentially a great way to get more eyeballs on Hive content creators. @threespeak has added RSS feeds for all video channels. AND, @podping started indexing these feeds as podcasts and feeding them to PodcastIndex. As a result, decentralized podcasting apps are indexing all 3Speak video channels as if they are podcasts. All 3Speak creators' content is being distributed more widely.
---
Hive.Pizza Team adds "Stake 'em All" Button
Some users in the Hive Pizza community requested a tool to quickly and easily stake all of their stake-able Hive-Engine tokens. The Stake 'em All Button is now available at https://hive.pizza/stakemytokens/.
---
NFTShowroom Refreshed UI and Art Auctions
https://peakd.com/art/@nftshowroom/nft-showroom-news-auctions-are-live-site-updates
---
POSH Token Double Airdrop
This week @acidyo and the POSH token team deployed their token airdrop. POSH tokens are distributed to registered users who link to Hive content on Twitter. The goal of the project is to incentivize Hive community members to share content and bring traffic to Hive front-ends.

This Week in Hive-Powered Games
Hive is home to a growing number of blockchain games. Here's a quick summary of updates for Hive games.
---
AxieBuzz Community Officially Launches Scholarship Program
The @axiebuzz, Axie Infinity fan blog community, launched a scholarship program this week. This program will help fund new players to enter the Axie Infinity game.
---
HashKings Launches Mobile-Optimized App
HashKings, the cannabis farm-manager game, released a mobile-optimized version of the game this week. It can be found at: https://mobile.hashkings.app/
---
Rabona: Reloaded Roadmap Update
The team behind Rabona, the football-club manager game, published a status update this week. The development team has grown to help deliver a new Tournaments feature and many other improvements.
---
Splinterlands Signups, Rentals, new Airdrop
This week Splinterlands shared an update on monthly account sign-up numbers. They are through the roof.
The 4th Azmare Dice Airdrop card was revealed. Players who purchase Azmare dice have a chance to receive one of the cards.
The new Splinterlands card rental system launched a few weeks ago and it's a raging success. The total volume of card rentals exceeded 30,000.


Upcoming Hive Community Events and Meetups

Thank you for reading. This is edition #37 of this Hive news digest. Your support and feedback are much appreciated. Please consider a follow, reblog, comment, or upvote.
Hive Today is published on Saturdays. The goal is to provide a curated news digest for the Hive community and educate outsiders about all the great things happening in the Hive ecosystem. If specific stories or events are missing here, please leave a comment.
This blog is produced by the @Hive.Pizza team (@hivetrending and @thebeardflex). PIZZA Crew is a Hive-powered social group empowering content creators, gamers, and YOU. We host game servers, a DLUX node, a Hive-Engine node, and now a Hive witness node! Please help us out and give your vote of approval for our witness (@pizza.witness). Here's a convenient way to vote using Hive Keychain or HiveSigner: https://vote.hive.uno/@pizza.witness. Thanks for your support!