2 years ago
Hive Today - September 12th, 2021 - Supply Down, Demand Up

Hive is alive, and this is Hive Today.
Hive Today is a weekly newsletter for the decentralized Hive network. Hive is a blockchain-based social app platform. This newsletter provides a summary of Hive apps, games, witnesses, and proposals news. Thank you for reading and sharing.
Over the past two weeks, Hive holders watched excitedly as Hive prices soared to new heights, Hive coins continued to flee exchanges, and Hive's total supply shrinks dramatically. Take a look at the charts below.


[On 9/3/21 $Hive reached a new ATH of $1.06. Source: CoinGecko]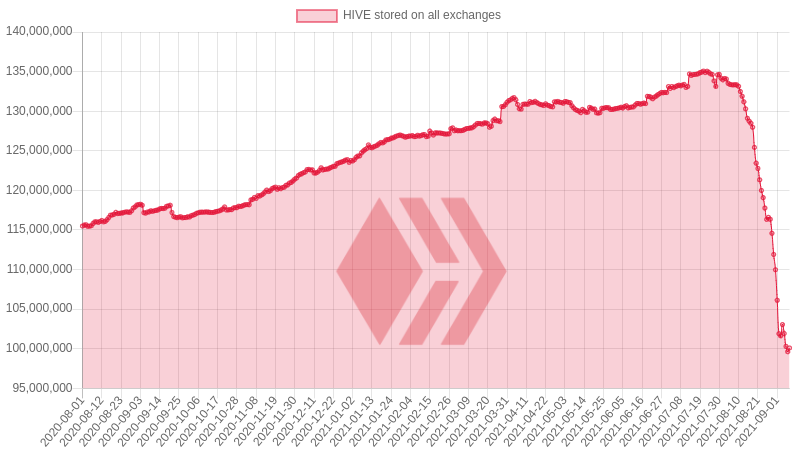 [~35 million $Hive left exchanges since August 1st. source: penguinpablo]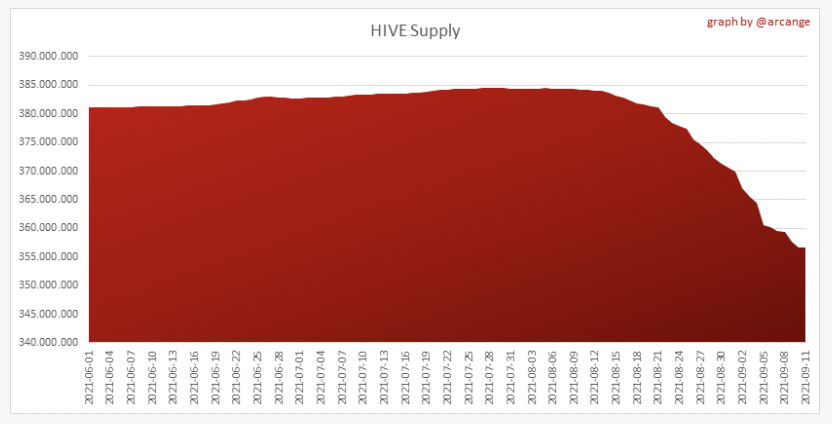 [Hive Supply shrinking since August. Source: @Arcange]

This Week in Hive Witnesses and DHF Proposals
Hive witnesses keep the blockchain running. The Decentralized Hive Fund (DHF) allows the Hive community to submit proposals and receive funding. This is a new section added to HiveToday. From now on, we will keep a close on new proposals and funding changes, as well as witness movements and witness updates.
---
SPK Network and Value4Value Proposals Funded
This week the @threespeak team's SPK Network proposal received enough votes for funding. This ambitious proposal seeks to build out a new decentralized video/content sharing platform and infrastructure. It also includes a novel cross-chain swap feature involving the Peerplays blockchain SON's (Sidechain Operator Nodes).
@brianoflondon's Value4Value app proposal was also approved for funding. This project connects the Bitcoin Lightning Network to Hive, enabling podcast apps to send tips to Hive content creators. Podcasting 2.0 calls the tips "boosts," and "boostagrams" are short messages attached to those tips. I tried this out myself and confirmed that it works. First, I sent some sats to a wallet embedded in my podcasting app (Fountain), then I found one of my favorite Hive content creators in the app. Then I sent a boost + boostagram. The boost showed up as a Hive transfer from @v4vapp, and my boostagram message showed up in the transfer memo.
---
ClickTrackProfit Witness Comes Online
Recently the @clicktrackprofit team (@jongolson and @blainjones) set up a Hive witness. This team is behind several other projects, including CTPTalk.io, CTP Hive-Engine token, TheHiveGuide, HivePay, INDEX token. Consider throwing one of your extra witness votes their way because @clicktrackprofit witness is close to entering the top 100.
---
The @pizza.witness team (I am a part of) reached Active Rank 71 on the witness chart. Our goal is to enter the top 50, and we have plans to expand our hosted Hive infrastructure after reaching that milestone.

This Week in Hive-Powered dApps, Tribes, & Tokens
Hive powers a growing number of decentralized apps (dApps). Since they all run on the same chain, one Hive account can access every app. Here's a quick summary of the Hive app landscape.
---
DBuzz Deploys Enhancements for Hashtags and Usernames
This week the @DBuzz (micro-blogging Hive dApp) team deployed some improvements to the app handling for special characters in hashtags and usernames.
---
Ecency and HiveSearcher Improvements Rolled Out
In the past few weeks, the Ecency team has been busy. The desktop app saw an upgrade and a new feature called double-click quick vote. HiveSearcher account indexing was improved to provide better results for old and new accounts. And randomized profile avatars called Bottts were added to Ecency, such that new users who haven't set their profile photo will be assigned a unique placeholder image.
---
HiveProjects.io Grows to 135 Project Listings
This week the @engrave team shared an update on HiveProjects. After listing four new projects, the total count of Hive projects has grown to 135. This catalog is a great resource to discover new tools and apps in the Hive ecosystem. The four added projects are GiftGiver (Hive faucet and HP delegation tool), dCrops (farm simulator game), Hive Reblogger (automatic reblog tool), and Terrive (photo sharing dapp).
---
Hive.Vote Now Supports Automatic Voting for Comments
This week the Hive.Vote app added a new option for voting on comments. This can be used for upvoting/downvoting content on Hive underneath top-level posts.
---
PeakD Roadmap Update and Talent Search
Last week, the @Peakd team shared an update on what's in the works for their popular Hive frontend. The two-person team is working on a significant UI/UX re-design to make the site more intuitive for new users. The team is also looking to bring on a new developer and requesting help from the community to find a good match.
---
ThreeSpeak Responds to Illegal Content
This week some illegal content was hosted on 3Speak. The team jumped into action to remove it from their front end and defend their position. A conversation started after the incident asks the community for feedback on how community policing should work for decentralized media.

This Week in Hive-Powered Games
Hive is home to a growing number of blockchain games. Here's a quick summary of updates for Hive games.
---
Exode Sells Out of Booster Packs
Exode, the space-themed NFT game, has sold out of booster backs on the primary store. However, collectors can purchase packs on secondary markets (P2P) and an upcoming WAX offering (with higher prices).
---
MuTerra Launches Season 4 of Discord Game
MuTerra, the NFT card game, has launched season 4 of their in-Discord game. The discord games are a hold-over until the full-featured December game launch.
---
Splinterlands Continues Explosive Growth and Announces New Rewards Cards and Abilities
Splinterlands continues to show explosive growth. They have seen days with over 10,000 new players buying Spellbooks (which come with a Hive account). In addition, the daily battle count on September 10th surpassed 6 million!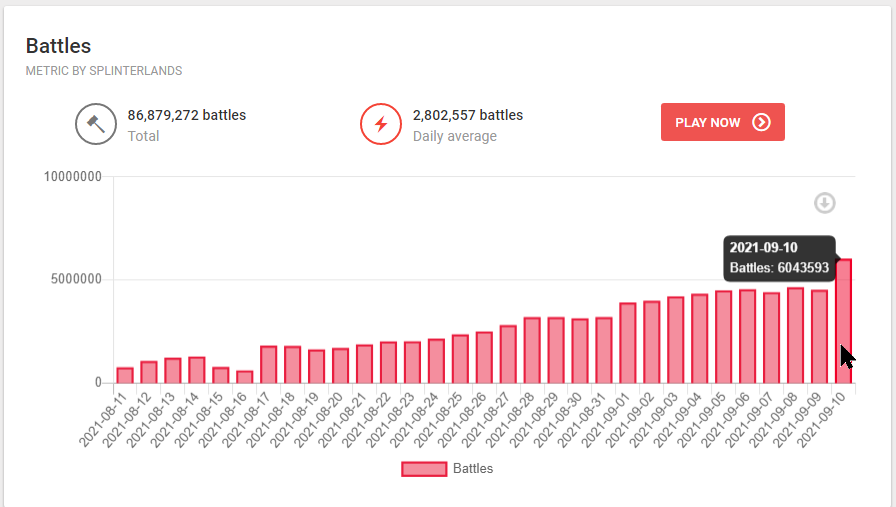 [Source: PeakMonsters.com]
The Splinterlands team also announced a new set of 21 rewards cards. These cards are given out to players for completing daily quests and as season-end loot. Also, four new abilities are added: Amplify, Forcefield, Camouflage, Deathblow.

Upcoming Hive Community Events and Meetups

Thank you for reading. This is edition #41 of this Hive news digest. Your support and feedback are much appreciated. Please consider a follow, reblog, comment, or upvote.
Hive Today is published on Saturdays. The goal is to provide a curated news digest for the Hive community and educate outsiders about all the great things happening in the Hive ecosystem. If specific stories or events are missing here, please leave a comment.
This blog is produced by the @Hive.Pizza team (@hivetrending and @thebeardflex). PIZZA Crew is a Hive-powered social group empowering content creators, gamers, and YOU. We host game servers, a DLUX node, a Hive-Engine node, and a Hive witness node! So please help us out and give your vote of approval for our witness (@pizza.witness). Here's a convenient way to vote using Hive Keychain or HiveSigner: https://vote.hive.uno/@pizza.witness. Thanks for your support!